It was the Victorian Labour Day long weekend. We decided to take the bike out for a spin. We decided to follow the bike path on St Georges Road and find out where it leads to.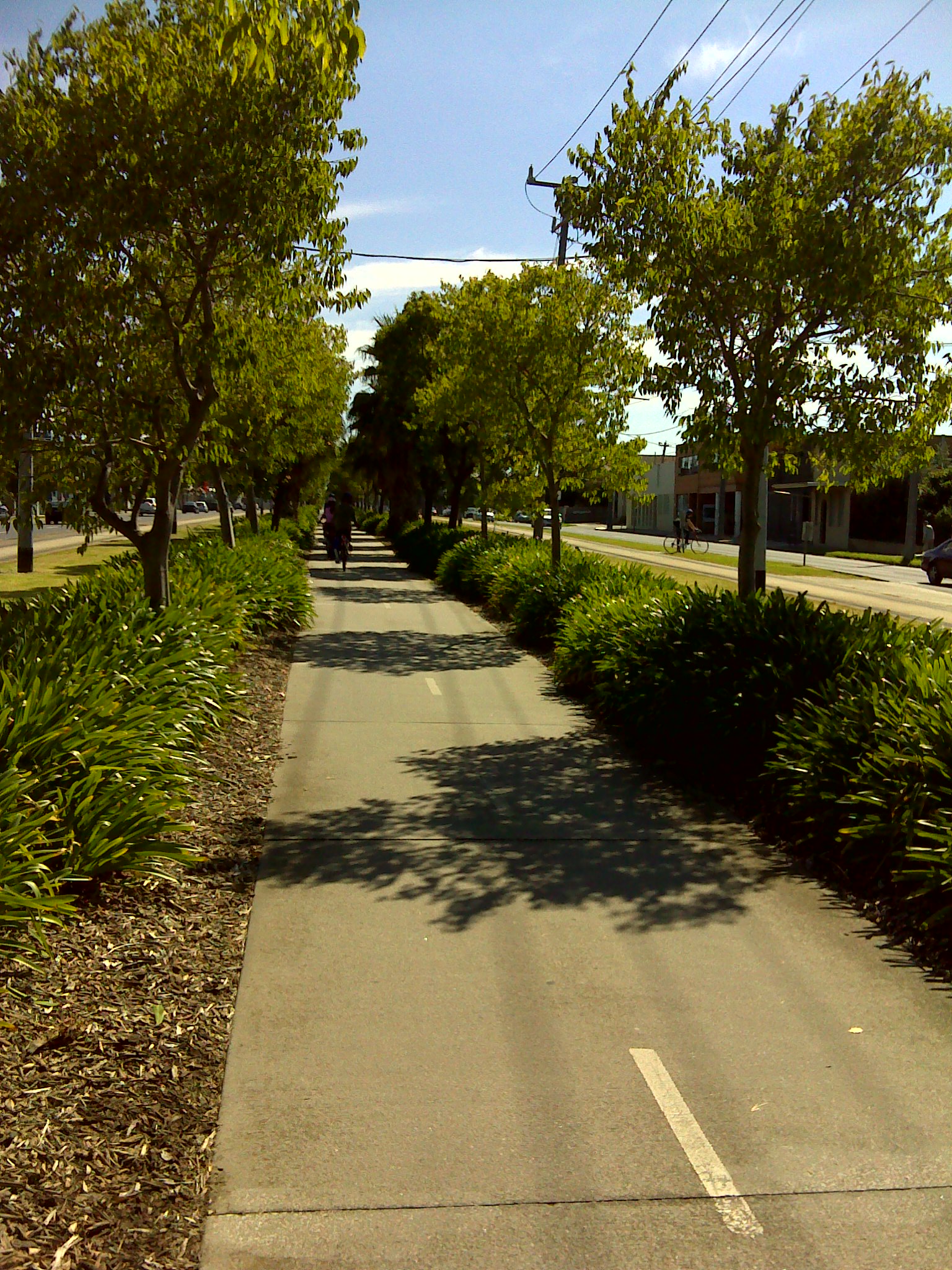 The St Georges Road Bike Path is rather unique in the sense that it is build between 2 roads. The tram track also runs along either side of the bike path. Trees on side of the path provide ample shade and it has an excellent surface to ride on. The only downside of this path is that it is not a dedicted bike path but a shared path for bikes and pedestrain.
We had wanted to find out where this path leads to for some time now. The Labour Day holiday was an excellent opportunity to do this.
The weather was low to mid-twenties and sunny. A near perfect day for cycling.
We set out from home and cycled on quiet Stewart Street toward St Georges Road. Stewart Street cross a few major roads including Lygon Street. Fortunately, there is always traffic lights nearly to cross the busy roads. We linked up to Authurton Road where there is no bike paths. The kids rode on the footpath toward St Georges Road.
When we reached St Georges Road, we headed north. This took us pass two geocaches which we stopped. The first one was the The Phantoms Skull Cave which we found fairly quickly after looking at the hint.
The second one was End of the line for Ray which in the Ray Braham Gardens. It took us some time but it was still a pleasant find. We took a rest before continuing our journey northwards.
When we reached the Murray Road junction, the bike path continue towards Reservior. We took that path as we were curious to seek if it lead somewhere interesting.
It took us to G.E. Robinson Park where we found another geocachine: Anyone for Tennis? (2). The locate cache fairly easily. Looking around the path northwards does not look very inviting. We decided to backtrack to Regent Street and find a way to the Upfield Bikeway. We eventually ended up on Murray Road and cycled on the shared path next to the Road. This takes us to the Upfield Bikeway/Gaffney Street intersection. We then head south along the Upfield Bikeway towards home.